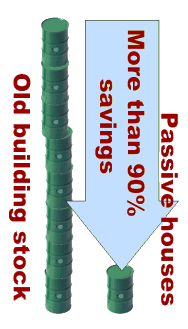 The next Passive House Conference will take place at Nuernberg 2008 April 11th and 12th. News about the 12th conference will be available on this site in just a few weeks.
The terrific interest in the 11th Conference on Passive Houeses shows the actuality of the subject: see our news from March 17th.
The Passive House Energy Standard is the leading standard for energy efficient design and construction.
In Europe already more than 6000 passive house units have been successfully built and completed. Positive feedback from inhabitants has confirmed what had been projected: not only energy costs can be reduced drastically, but also the comfort of living increases significantly by using an energy efficient construction.
Energy efficiency is the key to high thermal comfort as well as very low energy costs. Excellent insulation, high quality windows and heat recovery make it possible not only to reduce the energy requirement just a little bit, but to substitute the main part of the demand. Products suitable for passive houses have been developed in Europe, can be produced locally and installed by local handycrafts. And such products can be used in refurbishment of existing buildings, too.
The International Passive House Conference has been established to facilitate the exchange of ideas, knowledge, and progress in the field of energy efficient construction and sustainability.
As it has been the tradition in previous years, the conference is being held every year in a different region. For the year 2007 the Energy Institute Vorarlberg and the Passive House Institute are pleased to invite you to join us in Bregenz/Austria at the famous Lake Constance. The 11th Passive House Conference will be held on the 13th and 14th of April 2007 in the Bregenz Festival Hall. As every year, we offer a field trip to the most interesting Passive House projects and construction sites in the region near Bregenz 15th of April 2007.
The newest developments on highly energy efficient products and construction will be introduced and presented during lectures and in a building technology fair. The building technology fair of groundbreaking developments in the sustainable materials and energy efficient systems sector will be open to the public and will be held parallel and in addition to the conference. Many exciting innovations are being presented every year to a wide audience in an informative way.
Friday 13 and Saturday 14 April 2007
Conference (registration is necessary)
and Exhibition (free entrance)
Sunday 15 April 2007
Excursion (only for conference participants; registration is necessary)
Invitation to the 11th International Conference on Passive Houses 2007
11th Passive House Conference

PDF 255 kb
Conference Languages:
German, English. Simultaneous translation into English will be provided at all German-spoken sessions.